Gain an overview of the 2021/22 financial year contribution caps, eligibility, glossary of key terms and more with our handy Super Reference Guide. 
It is a quick reference to help you and your self managed super fund step through the year with confidence.
Download your Super Reference Guide below: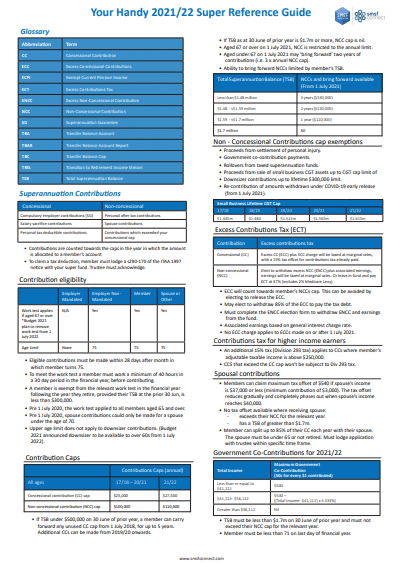 Sorry, this page is reserved for members of our free community and SMSF Connect members.
Please register for a free community account to view this page or login below.
If you are an existing member of SMSF Connect or the free community, please login below.
Provide some details below to join the free community and be regularly updated on SMSF news and information.
Disclaimer: The information contained in this document is provided for educational purposes only, is general in nature and is prepared without taking into account particular objective, financial circumstances, legal and tax issues and needs. The information provided in this article is not a substitute for legal, tax and financial product advice. Before making any decision based on this information, you should assess its relevance to your individual circumstances. While SMSF Association believes that the information provided in this article is accurate, no warranty is given as to its accuracy and persons who rely on this information do so at their own risk. The information provided in this bulletin is not considered financial product advice for the purposes of the Corporations Act 2001.