November 2021
Content provided by Msquared Capital
Article written by Paul Miron, Managing Director, Msquared Capital
Australia has been blessed over its economic history, weaving and dodging through major financial crises relatively unscathed. It entered the COVID-19 pandemic, which has caused the most severe global economic shock since the Great Depression, from a position of extreme strength: the budget was in balance for the first time in 11 years, workforce participation at a record high and welfare dependency at its lowest in a generation.
Australia was bathing in the glory of the most prolonged uninterrupted GDP growth worldwide in 30 years.
Australians also have emerged post-COVID as the wealthiest people per capita globally. Australia's economy is the most robust according to OECD as per below.
Learning from our past
In every significant economic challenge presented to Australia over the past 30 years, there seemed to be unexpected good fortune that allowed Australia to adapt and find new opportunities.
That was not always the case, as in the 90's recession we experienced a period of stagflation, reflected by high inflation of 5.5%, negative GDP growth, official interest rates of 12%, and unemployment of 12%, with the manufacturing industry being decimated.

At that time, Australia ranked extremely low within the OECD nations regarding income per capita. At the time, Singaporean Prime Minister Lee Kuan Yew berated Australia, warning Australians were on track to become "the poor white trash of Asia."
Despite the dire circumstances, Australia has used this era to introduce successful economic reforms that have served well for many decades. These included compulsory superannuation, RBA policy of inflation targeting monetary policy, privatisation, creating political independence with our regulatory pillars, RBA, ACCC and APRA, consumer protection departments, and the productivity commission—paving the way for robust policies to ensure Australia emerges competitive in a new
era of globalisation.
Our economy adapted and prospered to new opportunities such as mining, tourism, and education. Fast forward to 2007-2008, whilst the world was haemorrhaging during the GFC, our stringent banking regulatory framework led to our four leading banks being amongst the top ten in the world at the time, cushioning the crisis and emerging even more robust post-GFC.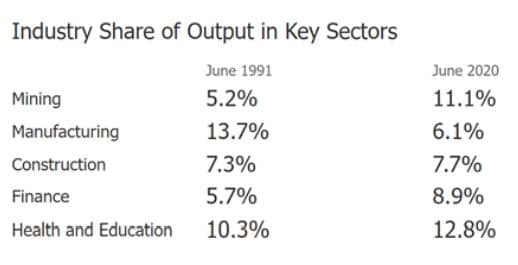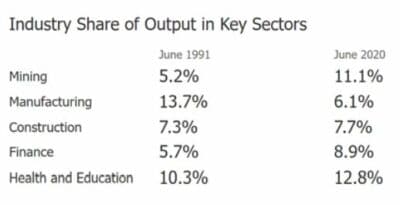 Present-day challenges
The emerging economic impacts of COVID have some similar traits to those of the '90s.
Once the inflation genie escaped from the bottle, we now see the latest inflation figure of 2.1% year on end at their highest. Importantly, this has been the case over the past six years and indeed inflationary economic indicators are not abating. Vigorous debate is brewing among economists and academics whether inflation is truly transitionary due to lockdowns. Other words such as stagflation, hyperinflation, sporadic, core inflation, deflation, and asset inflation have been added recently to our vernacular.
The genuine concern is that despite the RBA governor's assertions that interest rates will remain unchanged until 2023, it is unlikely that he will want to play chicken with the threat of inflation and so be unwilling to increase interest rates. By raising interest rates, nearly all assets will reverse their stellar fortunes, and deflate accordingly. The increased risk of an uncertain economic recovery and recessionary risks will continue to plague consumer confidence as a result.
Despite inflation being the main headline, there are other equally important economic challenges emerging for the Australian economy:
The post-COVID global trend emergence of the "Great Resignation", lambasting recovering businesses and adding to wage inflation and reducing profits;
Geopolitical relationships with our most significant export partner, China, continue to sour as trade is now weaponized, with the emergence of a long-term cold trade war seeming more apparent;
Ongoing supply chain disruptions;
International energy supply shocks;
Climate change policies and the shift away from carbon. With coal being the single largest export item on our trade balance it will impact our trade accounts;
The tertiary sector industry has been devastated with our borders shut for two years and the inability to replenish new enrolments. It is a shame Universities splurged recklessly pre- COVID on mausoleum-like campuses while shredding 17,000 jobs in this sector due to lack of cash flow;
Unbeknown impacts of social and economic effects of COVID are still emerging, e.g., data in US and Europe showing a lower consumption trend post-COVID.