Content provided by Msquared Capital
Written by Paul Miron, Managing Director, Msquared Capital
The end of financial year normally marks an annual ritual of self-assessment of one's investment portfolio performance relative to the market as well as creating financial goals for the next 12 months.
A key takeaway from living through the extraordinary circumstances due to Covid-19, is to expect the unexpected.
According to Credit Suisse, Australians have become financially the wealthiest people in the world. This has been driven by the ongoing performance of our two principal sources of wealth – housing and financial assets, underpinned by robust GDP growth.
With record-low interest rates, asset prices have essentially experienced a boom, with house prices being the largest contributing factor, adding an extra 7 trillion dollars to our net wealth.
Whilst still being in the epicentre of the pandemic, Australia has performed remarkably well notwithstanding international border closures and associated lack of tourism and international students. Remarkably, the construction industry and certain property types, such as units, have not faltered despite limited international immigration and a substantial exodus of temporary residents from Australia.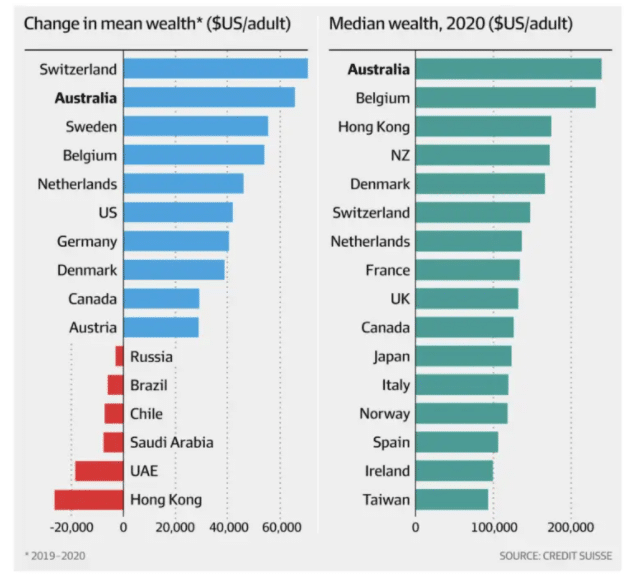 In fact, due to record iron ore prices and in increase in demand for mining products in combination with an elevated Australian dollar, we are one of only three countries in the world with GDP now higher than pre-pandemic levels. Once again, Australians collectively have done much better compared to the rest of world.
As a result, the extraordinary V shape recovery is placing pressure on supply chain constraints and the combination of labour shortages resulting in the inflation bells sounding the alarm.
Disclaimer: Msquared Capital Pty Ltd ACN 622 507 297, AFSL No. 520293 (Msquared) is the Trustee of Msquared Contributory Mortgage Income Fund.
The information contained on this website should be used as general information only. It does not take into account the particular circumstances, investment objectives and needs for investment of any investor, or purport to be comprehensive or constitute investment advice and should not be relied upon as such. You should consult a financial adviser to help you form your own opinion of the information, and on whether the information is suitable for your individual needs and aims as an investor. You should consult appropriate professional advisers on any legal, stamp duty, taxation and accounting implications of making an investment.
The information is believed to be accurate at the time of compilation and is provided by Msquared in good faith. Neither Msquared nor any other company in the Msquared Group, nor the directors and officers of Msquared make any representation or warranty as to the quality, accuracy, reliability, timeliness or completeness of material on this website. Except in so far as liability under any statute cannot be excluded, Msquared, its directors, employees and consultants do not accept any liability (whether arising in contract, tort, negligence or otherwise) for any error or omission in the material or for any loss or damage (whether direct, indirect, consequential or otherwise) suffered by the recipient of the information or any other person. The information on this website is subject to change, and the issuer is not responsible for providing updated information to any person. The information on this website is not intended to be and does not constitute a disclosure document as those terms are defined in the Corporations Act 2001 (Cth). It does not constitute an offer for the issue sale or purchase of any securities or any recommendation in relation to investing in any asset.
Investors should consider the Fund's Constitution, Information Memorandum (IM) and relevant Loan Memorandum (disclosure documents) containing details of investment opportunities before making any decision to acquire, continue to hold or dispose of units in the Fund. You should particularly consider the Risks section of the Information Memorandum and relevant Loan Memorandum. Anyone wishing to invest in a Msquared Contributory Mortgage Income Fund will need to complete an Application Form. A copy of the IM and related Application Form may be obtained from our office via email request from [email protected].
Past performance is not indicative of future performance. No company in the Msquared Group guarantees the performance of any Msquared fund or the return of an investor's capital or any specific rate of return. Investments in the Fund's products are not bank deposits and are not government guaranteed. Total returns shown for Msquared Contributory Mortgage Income Fund have been calculated net of fees and any distribution forecasts are subject to risks outlined in the disclosure documents and distributions may vary in the future. All figures and amounts displayed in this email are in Australian dollars. All asset values are historical figures based on our most recent valuations.
The information found on this website may not be copied, reproduced, distributed or disseminated to any other person without the express prior approval of Msquared.