Written by Paul Miron, Managing Director, Msquared Capital
At the beginning of 2022, I posed the following question to an audience of sophisticated self-directed investors:
Is Private Credit the new megatrend in Australia?
It is important to remember these were carefree times when the official cash rate was at a historic low of 0.10%, and terms such as 'cost of living pressure', 'mortgage stress', 'inflation' and 'recession' were not part of our vernacular.
I learnt a few lessons that day:
1) Howard Marks' philosophy regarding market cycles was once again on the money!
It should not be a surprise that most investors want to avoid hearing words of caution in good times. We conducted a survey in which most attendees believed that the equity and property markets would continue their stellar post-COVID economic trajectories without investors having to adjust their portfolio for future risk.
However, the premise of Howard Marks' proposition is that market cycles are better correlated with the collective mood of the market participants than pure economics.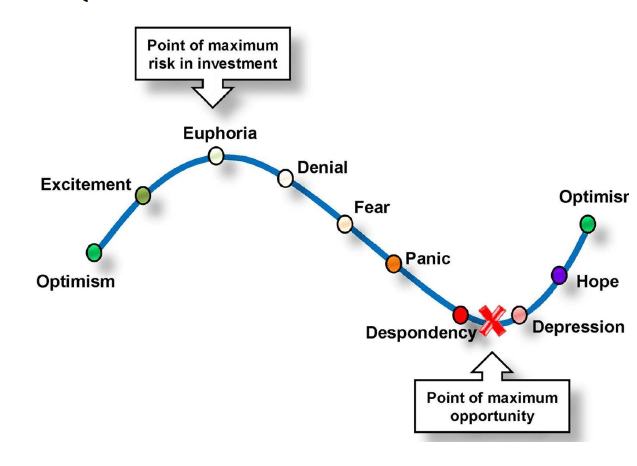 2) Private credit is at an embryonic stage in Australia.
Despite private credit funds being so dominant in both the US and Europe, it is still at the embryonic stages of its evolution here in Australia constituting circa 8% of all business debt.2
By comparison, in 2019, 50% of business debt in Europe was financed by private credit.3 The biggest traction however, is in the US where in 2020 private credit providers took a 68% share of the mortgage market (residential and commercial).4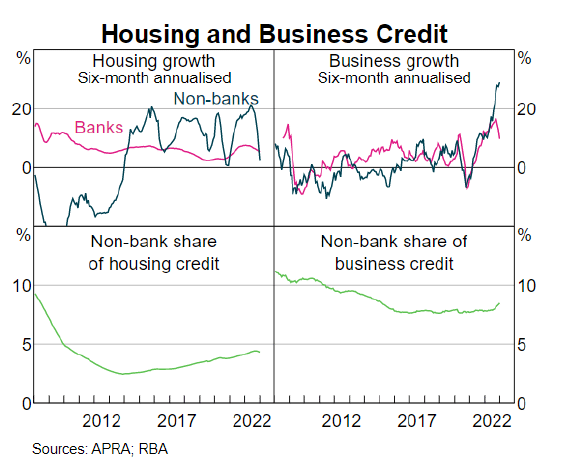 There is no question that there needs to be more awareness and understanding of private credit funds in Australia the — the benefits, the variety of options, the attractive risk-reward relationship, and most importantly, the diversification away from Australian equities.
3) There is a poor understanding of the market.
In Australia, only a few truly understand how commercial (Small to Medium Enterprise, SME) loans work combined with the true value proposition of private credit funds.
4) The revolution has already started within the Australian debt Market.
It is no longer a matter of IF; it is a matter of WHEN. It is only a matter of time before private credit funds will be recognised as a mainstream asset class and not labelled ambiguously as an alternative investment class.
Upon reflection, over the past 18 months there has been a significant increase new interest in the sector; a day does not go by without a fresh news article regarding a new entrant into the industry or a new mandate from either a superannuation fund or another financial institution, specifically focusing on allocating funds towards private credit.5
Current Economic Environment
Market expectations on whether we are going into recession or not, or whether interest rates will stay in place, go down or continue to go up this year, are in limbo. Not to mention the even larger questions, such as whether monetary policy will be enough to bring inflation at bay, or whether Trump's next move will be going to prison or back into the White House. Expectations regarding these events change daily.
Perhaps the biggest surprise despite the chaos and 11 official interest rate increases is that property is emerging as quite a resilient asset class, recently bucking the negative trend. According to CoreLogic, nationwide median house prices rose by 0.6% in March and 0.5% in April.6 As many economists, politicians and media have now concluded, the reintroduction of net migration and a slow planning system are contributing to keeping prices high, coupled with an overall lack of supply.7
To read Msquared Capital's full piece on whether Private Credit is the New Megatrend in Australia, please click on the button below.
Disclaimer:
Msquared Capital Pty Ltd ACN 622 507 297, AFSL No. 520293 (Msquared) is the Trustee of Msquared Contributory Mortgage Income Fund.
The information contained on this website should be used as general information only. It does not take into account the particular circumstances, investment objectives and needs for investment of any investor, or purport to be comprehensive or constitute investment advice and should not be relied upon as such. You should consult a financial adviser to help you form your own opinion of the information, and on whether the information is suitable for your individual needs and aims as an investor. You should consult appropriate professional advisers on any legal, stamp duty, taxation and accounting implications of making an investment.
The information is believed to be accurate at the time of compilation and is provided by Msquared in good faith. Neither Msquared nor any other company in the Msquared Group, nor the directors and officers of Msquared make any representation or warranty as to the quality, accuracy, reliability, timeliness or completeness of material on this website. Except in so far as liability under any statute cannot be excluded, Msquared, its directors, employees and consultants do not accept any liability (whether arising in contract, tort, negligence or otherwise) for any error or omission in the material or for any loss or damage (whether direct, indirect, consequential or otherwise) suffered by the recipient of the information or any other person. The information on this website is subject to change, and the issuer is not responsible for providing updated information to any person. The information on this website is not intended to be and does not constitute a disclosure document as those terms are defined in the Corporations Act 2001 (Cth). It does not constitute an offer for the issue sale or purchase of any securities or any recommendation in relation to investing in any asset.
Investors should consider the Fund's Constitution, Information Memorandum (IM) and relevant Loan Memorandum (disclosure documents) containing details of investment opportunities before making any decision to acquire, continue to hold or dispose of units in the Fund. You should particularly consider the Risks section of the Information Memorandum and relevant Loan Memorandum. Anyone wishing to invest in a Msquared Contributory Mortgage Income Fund will need to complete an Application Form. A copy of the IM and related Application Form may be obtained from our office via email request from [email protected].
Past performance is not indicative of future performance. No company in the Msquared Group guarantees the performance of any Msquared fund or the return of an investor's capital or any specific rate of return. Investments in the Fund's products are not bank deposits and are not government guaranteed. Total returns shown for Msquared Contributory Mortgage Income Fund have been calculated net of fees and any distribution forecasts are subject to risks outlined in the disclosure documents and distributions may vary in the future. All figures and amounts displayed in this email are in Australian dollars. All asset values are historical figures based on our most recent valuations.
The information found on this website may not be copied, reproduced, distributed or disseminated to any other person without the express prior approval of Msquared.