Written by Paul Miron, Managing Director, Msquared Capital
As we return to work after a Federal Election and the appointment of a new government, there still seems to be no end in sight regarding the war in Ukraine…not to mention an energy crisis, world food shortages, supply chain issues…COVID-19…and rising costs of living, with persistent high inflation, and to top it all off – the prospect of further
interest rate hikes. It seems that our economic future has never been more uncertain. Or are things really all that bad for investors?
Amidst the macroeconomic upheaval in the global economy, the question of the day is, "How does one remain calm, continue to be invested strongly, and actually take advantage of these changes in the global economic cycle?"
It all comes down to understanding risk and aligning your investment decision-making with a rational disciplined risk-reward philosophy.


How Heightened Risk can Increase Market Awareness
An analogy can be drawn from a social experiment conducted some years ago in Drachten, Holland, by a traffic engineer named Hans Monderman.1 He removed all traffic signs, speed control, and traffic lights in this city. Naturally, you would expect complete chaos to have ensued. Almost completely counter-intuitively, both fatality rates and car accidents reduced, while traffic flows improved. Why?
It all comes down to personal risk assessment; when drivers have a constant level of heightened risk awareness, they become better judges of risk…more careful and prudent. Consequently, they become MORE cautious in an environment with fewer road signs and other traffic measures to falsely give you comfort and bombard you with colourful (but perhaps distracting) information.
Precisely the same concept applies to investing. When investors are constantly thinking about risk, being self-reliant and filtering through market noise cautiously, investor behaviour changes for the better, resulting in better investment decisions. 
It also demonstrates an essential truth about life and investing – risk is a constant – whether you are driving on a crowded highway or investing your hard-earned money.
What changes is both our attitude and reaction to risk. Suppose the market does not place a high value of risk on an investment. This investment will then become too risky as investors become more careless and speculative, thereby mispricing the asset. This results in a dislocation in the market, creating either an opportunity or a bad investment.
Macroeconomic Forecasts
Investors are often lulled into a false sense of security based on what other people are forecasting and thinking, meaning that they are often caught up in speculative investment
trends, often with undesirable outcomes.
I am astonished by the current significant economic events. We have not seen a sharper contraction in both stocks and property values for a long time.
The most pressing economic issue impacting all investors is the nexus between inflation and interest rates. How far will the RBA go in raising interest rates to curb inflation? This is now the centrepiece of all forecasts and market predictions. If rates are raised too quickly and aggressively, it increases the risk of an exceptionally prolonged recession. If our central bank is too lax, the inflation we are experiencing may morph into something more disturbing, such as stagflation, deflation, or even hyperinflation.
Thus, the question becomes: how reliant are we on forecasts when making investment decisions?
Below are the Big Four bank economists giving their best attempt at a forecast. Interestingly the CBA and financial market forecasts would differ significantly regarding overall asset prices, from notions of modest correction to a full-fledged
market collapse.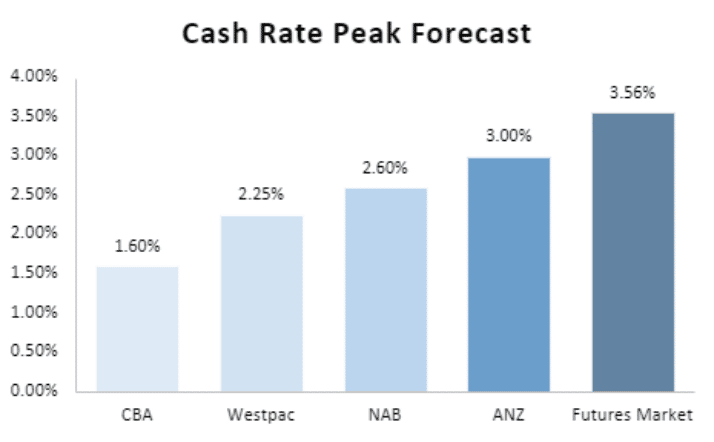 Taking the conservative estimate, if the CBA predictions are accurate, mortgage holders' monthly repayments will increase by 14.6%,4 which is aligned with the last time we experienced a rise in the interest rate between 2002 and 2008. However, if they take the forecasts priced in by the financial market, mortgage payers would be making 39.7% higher monthly repayments.


Risk Tolerance
As per my last opinion piece, Msquared's view is aligned with the CBA forecast; that is, we would anticipate property prices falling 15%. However, our risk tolerance towards new opportunities is more conservative as we continue to prioritise asset preservation. In other words, we have adjusted our risk profile to a more extreme decline in property prices, which is reflected in the opportunities we are providing our investors.
Our new opportunities reflect current forecasts as economists make their best market predictions based on the latest information. This takes into account the inability to predict
people's behaviour or erratic future events.
To read Msquared Capital's full article on investing during extreme uncertainty, click below to download the full report and learn more about the true fundamentals of investing.
Disclaimer:
Msquared Capital Pty Ltd ACN 622 507 297, AFSL No. 520293 (Msquared) is the Trustee of Msquared Contributory Mortgage Income Fund.
The information contained on this website should be used as general information only. It does not take into account the particular circumstances, investment objectives and needs for investment of any investor, or purport to be comprehensive or constitute investment advice and should not be relied upon as such. You should consult a financial adviser to help you form your own opinion of the information, and on whether the information is suitable for your individual needs and aims as an investor. You should consult appropriate professional advisers on any legal, stamp duty, taxation and accounting implications of making an investment.
The information is believed to be accurate at the time of compilation and is provided by Msquared in good faith. Neither Msquared nor any other company in the Msquared Group, nor the directors and officers of Msquared make any representation or warranty as to the quality, accuracy, reliability, timeliness or completeness of material on this website. Except in so far as liability under any statute cannot be excluded, Msquared, its directors, employees and consultants do not accept any liability (whether arising in contract, tort, negligence or otherwise) for any error or omission in the material or for any loss or damage (whether direct, indirect, consequential or otherwise) suffered by the recipient of the information or any other person. The information on this website is subject to change, and the issuer is not responsible for providing updated information to any person. The information on this website is not intended to be and does not constitute a disclosure document as those terms are defined in the Corporations Act 2001 (Cth). It does not constitute an offer for the issue sale or purchase of any securities or any recommendation in relation to investing in any asset.
Investors should consider the Fund's Constitution, Information Memorandum (IM) and relevant Loan Memorandum (disclosure documents) containing details of investment opportunities before making any decision to acquire, continue to hold or dispose of units in the Fund. You should particularly consider the Risks section of the Information Memorandum and relevant Loan Memorandum. Anyone wishing to invest in a Msquared Contributory Mortgage Income Fund will need to complete an Application Form. A copy of the IM and related Application Form may be obtained from our office via email request from [email protected].
Past performance is not indicative of future performance. No company in the Msquared Group guarantees the performance of any Msquared fund or the return of an investor's capital or any specific rate of return. Investments in the Fund's products are not bank deposits and are not government guaranteed. Total returns shown for Msquared Contributory Mortgage Income Fund have been calculated net of fees and any distribution forecasts are subject to risks outlined in the disclosure documents and distributions may vary in the future. All figures and amounts displayed in this email are in Australian dollars. All asset values are historical figures based on our most recent valuations.
The information found on this website may not be copied, reproduced, distributed or disseminated to any other person without the express prior approval of Msquared.